The platform's adaptability is one of the best aspects of creating a website using WordPress. WordPress allows you to create high-traffic blogs, money-making machines, and lead-generating business websites. Even so, there are several paths you may choose.
By using WordPress plugins, you may save time and effort by not having to build every feature from scratch (or by not having to sacrifice any functionality due to your lack of technical knowledge).
But what exactly are we talking about when we say "essential plugins"? Because, for instance, an eCommerce site would need plugins to handle payments or add product variants. This may be necessary for eCommerce sites but not for other websites.
Because WordPress provides users with access to more than 55,000 plugins, it may be challenging to determine which plugins are most appropriate for usage on a specific website. At Stack Host, we simplify the decision-making process by including what we think to be the best plugins available, all of which are guaranteed to help you perform better online business.
So, here are five generally necessary WordPress plugins that we include with every Stack Host install:
1. Elementor Page Builder for designing without code
Elementor is a drag-and-drop website builder plugin for WordPress that enables you to create and update sites without coding using a visual editor. Elementor allows you to create and design any page, including homepages, blog pages, about pages, landing pages, online storefronts, entire websites, and more.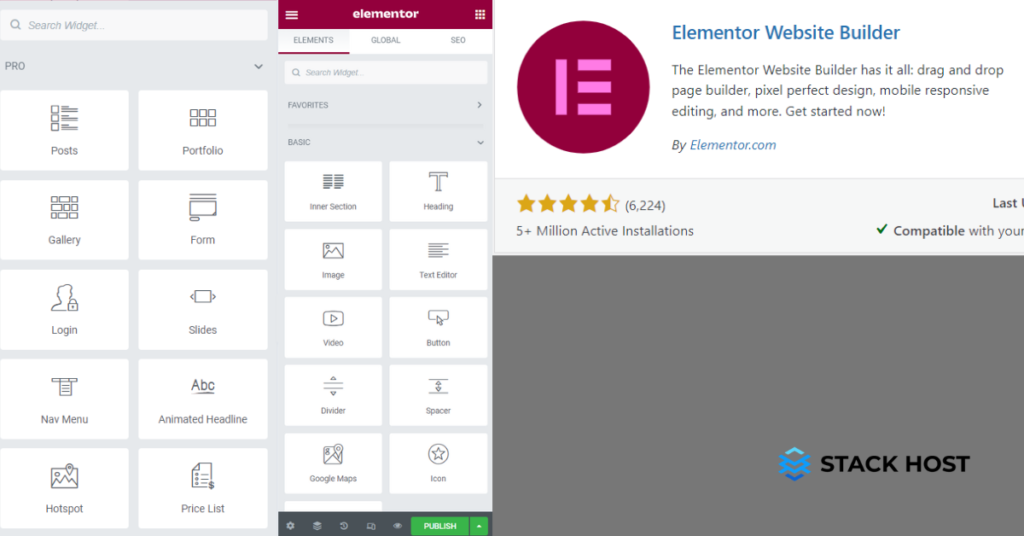 Elementor Pro is Elementor's full-featured version. It extends Elementor's basic functionality by enabling you to construct multi-step forms, pixel-perfect popups, use a built-in Theme Builder, and many other powerful features. Elementor allows you to modify every part of your page or website. You may include galleries, forms, popups, online storefronts, and other features. The free edition of Elementor provides nearly limitless design possibilities. Elementor Pro, on the other hand, provides more professional tools that speed up your productivity and enable you to change any aspect of your website.
2. WP Forms for contact forms
Every website must have specific pages and functionalities. For example, the Contact page and contact form are non-negotiable. The contact form allows visitors to quickly, easily, and conveniently communicate with the individuals on the other side of a website. Because of the critical function, it plays in online communication. You must exercise caution while selecting a contact form plugin. Among dozens of plugins experimented by many with over the years, WPForms comes out as the apparent victor for a variety of reasons:
Templates are available if you wish to save time while creating new ones.
The plugin generates visually appealing, user-friendly forms.
The visual drag-and-drop builder allows you and your customers to alter the form.
You have much say over how the form appears and how each field functions.
CAPTCHA and a honeypot are incorporated as anti-spam measures.
You may automate many commercial processes on your websites with an update, such as collecting payments, processing file uploads, and running surveys.
3. Site Kit by Google to connect to Google services
Site Kit is Google's official WordPress plugin that gives insights into how users find and utilize your site and how to improve and monetize your content using data from various Google tools. Site Kit makes it simple for WordPress site owners to understand how their site is doing and what steps they should take next. Site Kit provides the following services to WordPress site owners:
Verifying site ownership using Search Console is simple—you don't need to post a code snippet on your site to show you're the owner.
Access crucial statistics right from your WordPress dashboard. This plugin saves you time by displaying important information as soon as you sign in.
Cross-product insights—Google Search Console, Google Analytics, PageSpeed Insights, and AdSense—are combined into a single, user-friendly dashboard. It will assist you in making informed decisions quickly.
There is no source code editing. You can install and manage Google products on your website in just a few clicks.
4. Rank Math SEO for quick and approachable SEO
Without appropriate search engine optimization (SEO), your website is unlikely to reach a large audience. Yoast SEO was the go-to plugin for many users until Rank Math came, thanks to its helpful content recommendations and simple setup procedure. Rank Math, on the other hand, quickly established itself as the next SEO powerhouse.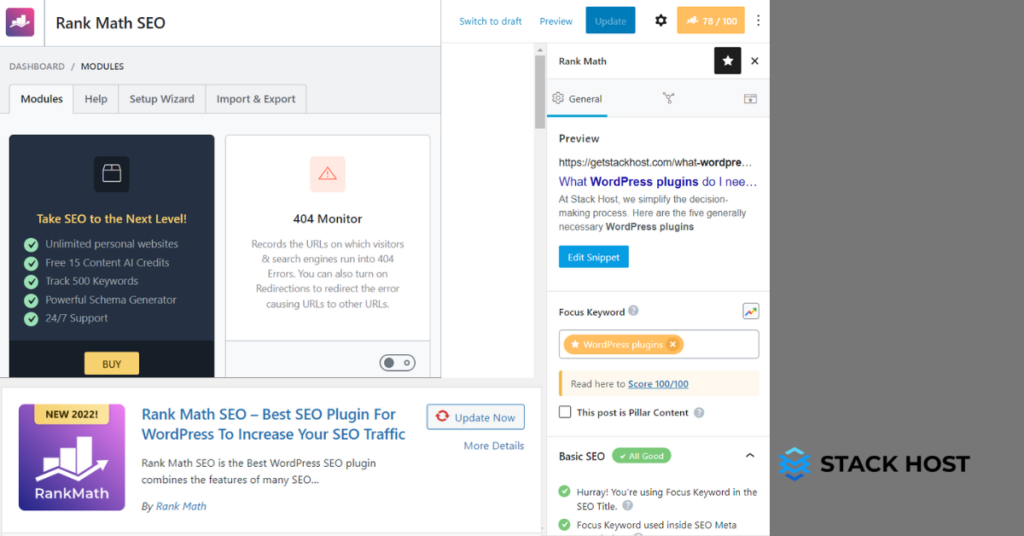 Rank Math is a WordPress SEO plugin that allows anyone to quickly enhance their content by offering built-in suggestions based on widely-accepted best practices. With Structured data, you can easily adjust critical SEO settings, manage which pages are indexable, and how you want your website to appear in searches.
5. Breeze Caching Plugin for Speed
Breeze is a free, simple (but powerful) and user-friendly WordPress Caching Plugin developed by the Cloudways team. It provides several options for optimizing WordPress performance at different levels. It works well with WordPress, WordPress with WooCommerce, and WordPress Multisite.
Breeze is powerful in the following areas:
Breeze enhances website performance and resource efficiency. Other features include a file-level cache system, database cleaning, minification, Varnish cache support, and streamlined CDN integration options.
Breeze is simple to install and set up simply from WordPress. Breeze configuration is simple, and most default choices function effectively straight out of the box. The suggested settings should be compatible with all of your WordPress websites.
Breeze has been created to be easy for all users. Install and activate the plugin to view the results immediately.
The fact that Breeze WordPress Cache Plugin has built-in support for Varnish makes it so great. If Varnish is not installed on your hosts, Breeze will use its caching technique to improve the speed of your WordPress site.
Ready to launch your small business website on WordPress with Stack Host? Our Website Coaches are on standby to onboard you into your new website and get your website started with momentum. Stack Host makes it easy to launch a fully-designed WordPress website loaded with extras in minutes, but you don't have to do it alone. All hosting plans come standard with onboarding by a Stack Host website coach. Schedule a free call with a Stack Host Website Coach.