This article covers migrating a WordPress website from any host to Stack Host using our free WordPress migration service.
Upon signing up for a Stack Host WordPress hosting plan, you will be asked to select a starter WordPress theme from our extensive WordPress theme library, to build a WordPress website from scratch, or to select free WordPress migration if you already have an existing site. We are more than happy to migrate your WordPress website within two business days, or you can migrate your website right away on your own if you are the do-it-yourself type.
To have your pre-existing website migrated over to Stack Host, we will need you to fill out our migration request from. This form asks for several types of login access to your website; however, admin login to the WordPress dashboard will work most of the time. Please fill out as much as possible.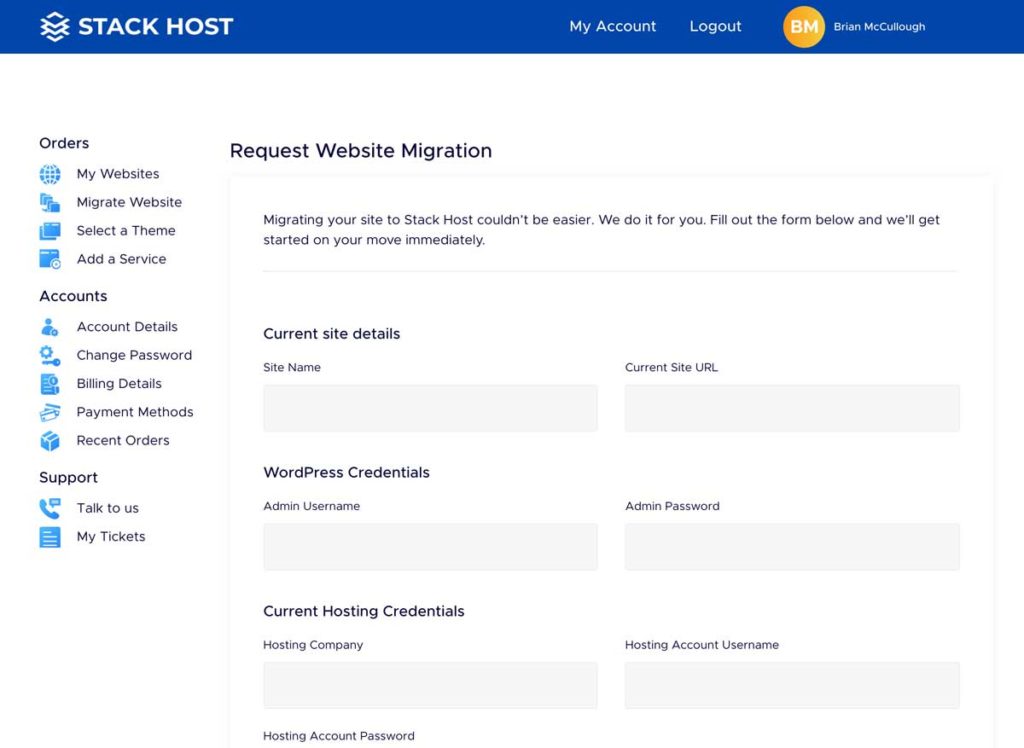 Here is a look at the type of information we will request for WordPress migration:
Site Name
Current Site URL
WordPress Credentials

Admin Username
Admin Password

Current Hosting Credentials

Hosting Company
Hosting Account Username
Hosting Account Password

FTP/SFTP Credentials

Hosting Location (an IP address like 127.0.0.1 or ftp.hostdomain.com)
Username
Password

Are there any important directories in the root? (yes/no)
Any other instructions?
That is it! Once your migrated website is completed you will receive a support notification to review it and once ready you to point your domain to Stack Host.