When you are ready to show off your new website there are a few steps to take for a successful launch. Below is your guide to launching your WordPress website on Stack Host.
Table of Contents
Uncheck Search engine visibility under WordPress settings > reading
Update your website's primary domain
Point DNS for your domain. Allow DNS time to propagate (15 min – 24 hours depending on the registrar)
Note: Find the DNS guide for your domain registrar here
Search engine visibility WordPress Setting
To allow search engines to index your website in WordPress, login to your WordPress dashboard at "yourwebsite.com/wp-admin." Navigate to Settings, then navigate to Reading. Scroll down and make sure Search engine visibility is unchecked. Unchecking this will allow search engines, like Google and Bing, to display your website pages in their search results.

Update your website's primary domain
In your Stack Host dashboard navigate to the website you would like to launch, click on the thumbnail to manage that website. Now that you are in your website management area select Domain Management. Next, enter your primary domain name, replacing your development site URL.
Example:
www.mywebsite.com or
mywebsite.com
Do not enter "http://mywebsite.com," a domain name that is not yours. Enter your unique domain name. In need of a domain name? Register one at your favorite domain register.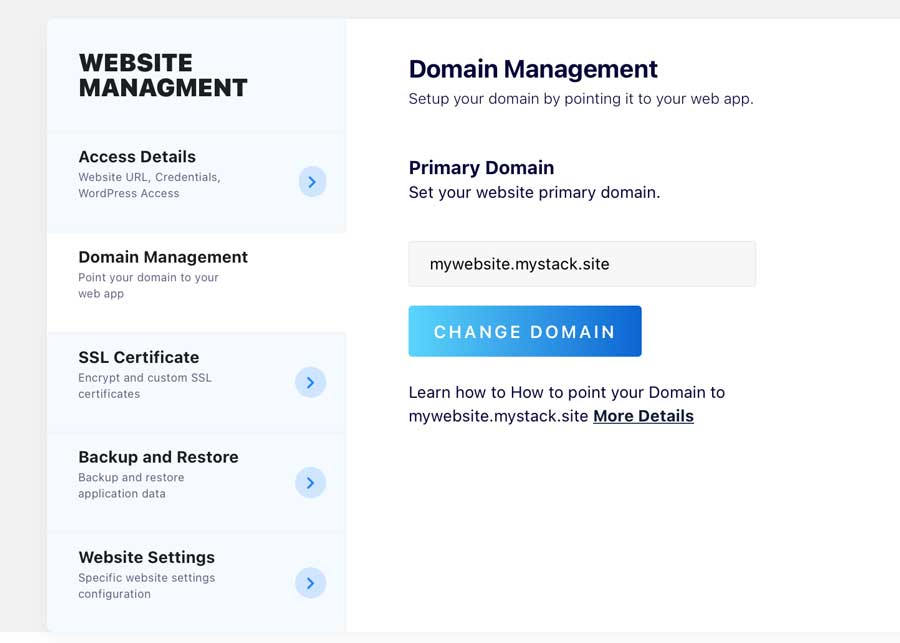 Point DNS for your domain
Now that your website is ready to be indexed, your domain name has been added to Stack Host, which means it is time to point your domain name.
For more information on how to point DNS, please check out these domain registration help articles:
Note: DNS can take 24 to 48 hours to fully propagate across the entire internet. This depends on the record's TTL (Time To Live) value. If your DNS host allows you to edit TTL, it is best to set it to the minimum value, which is at least 24 hours.